Rail systems on firearms provide a mounting platform for firearm accessories like lights and lasers. Rarely, the rail will be used as an attachment point for a scope. Rails come in different lengths, from full railed, ¾ railed, and 1913 Picatinny rail cuts.
Lights
When lights are attached to the handgun it is possible to illuminate the area where you're aiming the gun. However, having a light on a gun can make the holster too bulky when it comes to concealed carry. For law enforcement officers, lights are usually chosen by the agency and are part of the uniform code.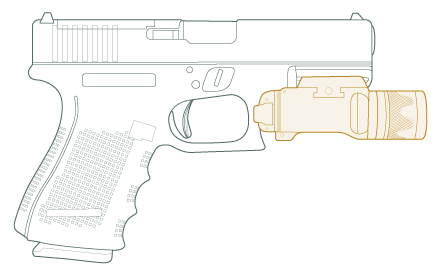 To learn more about lasers, visit our page on Optics and Sighting Systems.