DUAL SPRING CLOSURE
The dual spring closure provides firearm retention and stability, with a thumb break over the back of the handgun and another around the trigger guard. The second strap keeps the handgun in place, and from falling forward out of the holster. The dual spring closure is used in the #X-15® vertical shoulder holster.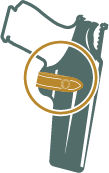 ---
ELASTIC LOOP RETAINER
An elastic loop retainer is an elastic band that wraps over the back of the pistol, or the top of equipment to provide secure retention. To disengage, it has to either be disconnected or moved out of the way.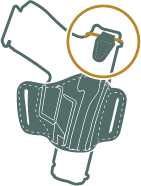 ---
FINGERLOK™ DEVICE
The FingerLok™ mechanism is a spring loaded cam lever that locks onto the trigger guard of the handgun.  The release lever is positioned behind the trigger guard enabling the user to deactivate it by depressing it with a sweep of the middle finger as a natural part of the drawing motion. The result is a smooth and efficient draw stroke that does not require any unnatural movements. The FingerLok device automatically engages the pistol's trigger guard as the user reholsters the gun.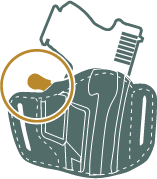 ---
FLAP
A flap covers the entire back of the handgun, and typically has a clasp which needs to be undone to lift the flap. The flap protects the handgun from the elements and are commonly found on military holsters.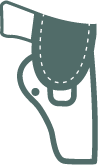 ---
PRD™ PINCH® RETENTION DEVICE
The PRD™ (Pinch Retention Device) is an internal device that secures the firearm by gripping onto both sides of the trigger guard when the gun is fully seated in the holster. Made of a durable, high-tech polymer, it offers enhanced retention and allows the user to feel when the handgun is fully seated in the holster. It holds the firearm firmly in place until the user is ready to draw. It offers added security with a smooth, instinctive draw.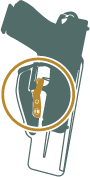 ---
THUMB BREAK OR THUMB SNAP
The traditional thumb break or thumb snap, first designed by John Bianchi in 1960, features a strap that wraps around the hammer area of the handgun front to back securing the holstered firearm. The back part is typically steel reinforced, allowing for the thumb to push back towards the body to release the snap upon the draw.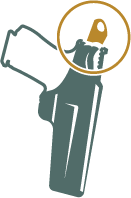 ---
THUMB BREAK WITH DOUBLE LOCK
The thumb break with double lock includes a secondary retainer strap for a double lock on the thumb break.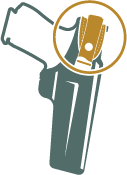 ---
THUMB BREAK/PRD™ PINCH® RETENTION DEVICE
The thumb Break/PRD™ uses a combination of the thumb break snap and PRD (Pinch® Retention device) to provide secure retention of the handgun.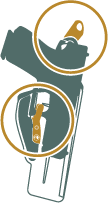 ---
TRIGGER GUARD DETENT
The holster is molded closely around the trigger guard creating a tension fit. Sometimes, there is an adjustment screw that allows you to set the tension level.